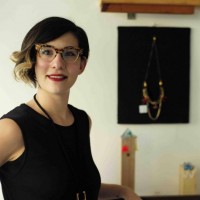 Eleni is a Textiles & Accessories designer specialised in Weave. She creates custom made woven fabrics often used for the creation of sculptural pieces & unique accessories. She is interested in the recreation and manipulation of fabrics, designing jewelleries, earrings and body pieces, hand knitting jewellery pieces and leather bags. She is also passionate with weaving and manipulating with different elements. Her favorite materials include wood, metal components, fine threads, textured threads, leather, rubber, crystals, corals and pearls.
Studies:
- 2011-2012 Chelsea College of Arts & Design London MA Interior & Spatial Design with Merit Grade
- 2007-2010 University of Brighton BaHons Textiles (Weave) with Business studies Graduated with 2.1 Grade
- 2006-2007 UCCA University College for the Creative Arts, Foundation Course Graduated with Distinction 2006 IELTS with 6.0.
Exhibitions:
- In 2012 I have participated in the Wood Street Open Art Competition which one of my designs where selected to be printed on tote bags.
- In 2012 I have participated in a project for SONY London studio in re-designing their studio. Our team was one of the final selected teams.
- During the summer of 2011 I have participated and helped with the theatrical setting and costumes of a ballet performance I took part, and I was one of the three instructors for preparing the whole performance.
- Also during that summer i have participated in an art fair which I created and sold series of jewelleries and handmade sandals. according to art.