Roberto Correia
---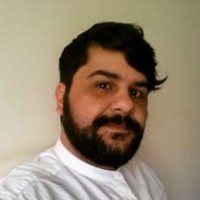 Roberto Correia was born in Funchal, graduated in Fine Arts by the University of Madeira, master's degree in Teaching of Visual Arts for Teachers of the 3rd cycle of Basic Education and of Secondary Education at the Faculty of Fine Arts and the Faculty of Psychology and Educational Sciences of the University of Porto – thesis "Apto para o ensino do desenho? Reflexões a partir de um contexto especializado" PhD candidate in the Arts Education at the Faculty of Fine Arts, University of Porto.
He has collaborated in some research projects in the area of artistic education, has given training in the area of visual arts history and has developed several plastic arts workshops aimed at students of the various teaching cycles.
In the artistic field he began to exhibit individually in 2007, previous to this date he participated in projects and collective exhibitions of visual arts and collective projects in the area of performance. One of his interests is to explore the boundaries between painting and drawing. In addition to these projects, he worked in set design and costume designer for theater and dance companies.