Maria Ioannou
---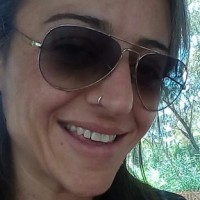 Born in Nicosia in 1975 in Nicosia, Cyprus. She is a graduate (master) of the Department of Fine and Applied Arts at the school of Fine Arts of Aristotle University of Thessaloniki, Greece, in the degree of Painting with tutor Mr Theofylaktopoulos. She has also taken Printmaking classes with teachers Giannadakis and Sahinis and Photography classes with Katsaggelos.She has presented her work in solo and group exhibitions in Greece and Cyprus, with important distinctions, among which is the second prize in the intercultural contest "Weaving"(2008) and the second prize in the contest for the logo of the celebration of the fifty years of Cyprus' independence (2010).
Her works are hosted at the State Gallery of Cyprus, at the home of Kavafis in Alexandria and in other personal collections in Cyprus and abroad.
From 2002 she works as an associate in the Department of art & design of Curve Studio Ltd (digital visual productions). At the same time she teaches at her own workshop Logw texnis. She has also various contributions to educational projects in primary schools (e.g. installations, mosaics).