Mara Maravilha
---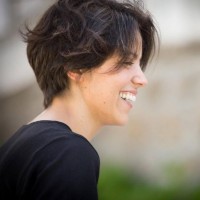 Mara Maravilha, Viseu, 2017.
Due to Mara's stubbornness and restlessness, felt since while in her mum's womb, she insisted in being born in Viseu on the 30th of August, 1981. Mara's childhood and adolescence were lived in Penude de Baixo, a humble and quiet village in the county of Lamego, where there was never much happening. Maybe it was from the fact that there weren't many things happening around that originated a childhood full of stories and adventures that still resonate in her memory.
It's this time of her life and these memories that inspire some of her artistic projects for children, together with the research being developed by the same in the PhD in Artistic Education at FBAUP.
Mara has a Bachelor's degree in Secondary School Teaching with a stream on Visual and Technological Education by ESEV; a Master's degree in Sculpture by FBAUP and teaches since 2004 in the area of Arts and Creativity Activities in the department of Art and Communication of ESEV; she also develops work as artist and educator in the areas of performance, theatre/ scenography and installation.