Inês Azevedo
---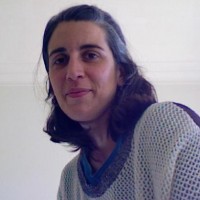 Artist Educator.
Degree in Fine Arts-Sculpture at the Faculty of Fine Arts of the University of Porto.
Master's Degree in Contemporary Artistic Practices at the Faculty of Fine Arts of UP. Master's Degree in Visual Arts Teaching at the Faculty of Psychology and Educational Sciences and Faculty of Fine Arts at UP.
Co-coordinator of Casa da Imagem: conception, general programming, production, design of museological project and educational service.
She has worked in the Educational Service of the Museum of Contemporary Art of the Serralves Foundation as a Monitor of the Educational Service, where she has organized guided visits to the exhibitions, workshops for the general public, schools and families. Teacher at the Professional School of Gaia. Active member and founder of the artistic collective called "Senhorio". She also has worked in arts education at the "fiuu", ATL that followed teaching perspectives close to the thought of Education Through Art. At the same time she develops research and individual artistic projects.